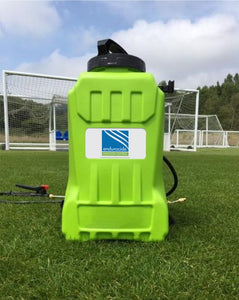 Electric Backpack Sprayer - 12L capacity
£139.99

£139.99
Includes VAT.
Free shipping
on all orders over £50! (T&Cs apply).
---
---
Disinfecting just got easier with our 12L Backpack Sprayer! 

  12L capacity, automatic sprayer - allows you to regulate spray pattern speeds

  Multi-use - compatible with AntiBak Residual, QFD, Endurocide Virucidal
---
Product Information
Can be carried on your back - adjustable straps allow the pack to be carried comfortably on your back 
3 different nozzles 

-

 comes with a single & double conical nozzle and a 5 hole adjustable nozzle - perfect for all your needs

Rechargeable - Li-ion battery pack to keep you going
Safe to use - comes with lock switch and you can regulate the spray pattern speeds to meet your needs
---
Weight (empty): 1.2kg
Maximum capacity: 12 Litres
---
Use biocides safely. Always read the label and product information before use.
---
We Also Recommend